Spring break came and went this year. Technically we had two weeks of spring break in our household. Crash goes to a pre-k that's part of a private K-8 AND my boys are in the public school system. Thus, two back to back weeks of spring break.
Spring break with my daughter was pretty low key. Just playing at home, going to the park and just fun hanging out time. With my boys it was a little tricky because Crash goes to afternoon pre-k so we had to revolve our days around drop off and pick up. She did spend two days at home with us and enjoyed the beach and zoo with our friends. During our second week of break we had some seriously gorgeous days, the temps were cool but the sun was out in full force.
Golden Gardens is a fabulous beach and park not to far from our house. The kids love going there and we'll go year round. The beach view is beautiful you see the Ballard marina, Magnolia and even some islands. Unlike many other beaches in the area the sand is actually nice and soft but there are lots of charcoal bits scattered about, especially during the summer, due to evening bonfires (which are fun in its on rite!) There is also a fabulous playground steps from the sand so that's pretty awesome as well. Whenever we head to Golden Gardens we really do make an afternoon of it. The kids were super excited to head to the beach during Spring break. Crash's lovely friend and my friend joined us and they spent hours upon hours playing in the sand, digging and building and looking for shells. The boys indulged in the playground and the girls couldn't even be bothered!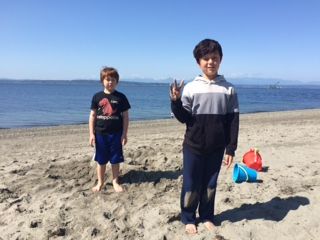 We also visited the zoo during Spring break. The Seattle zoo is pretty big and very nice. And on this day it was beautiful. It was helpful that my friend had her prime card so we got in for $5/pp!!!! Score! We didn't get to see the tiger cubs but that's okay, we had a great time nonetheless. As usual Crash went crazy when we got to the wolves, which are her favorite animals. She stood there and howled and howled and howled. She's so loud its nuts. We went into the aviary area and it was filled with lots of love bird, cockatoo type birds. I was a little afraid I would get poo'd on, but it was all good. While in the aviary we noticed you could buy a seed stick for $1, which we did and boy do those birds know what those sticks are! They immediately came swooping down, landing on your hand or arm and just ate that thing clean!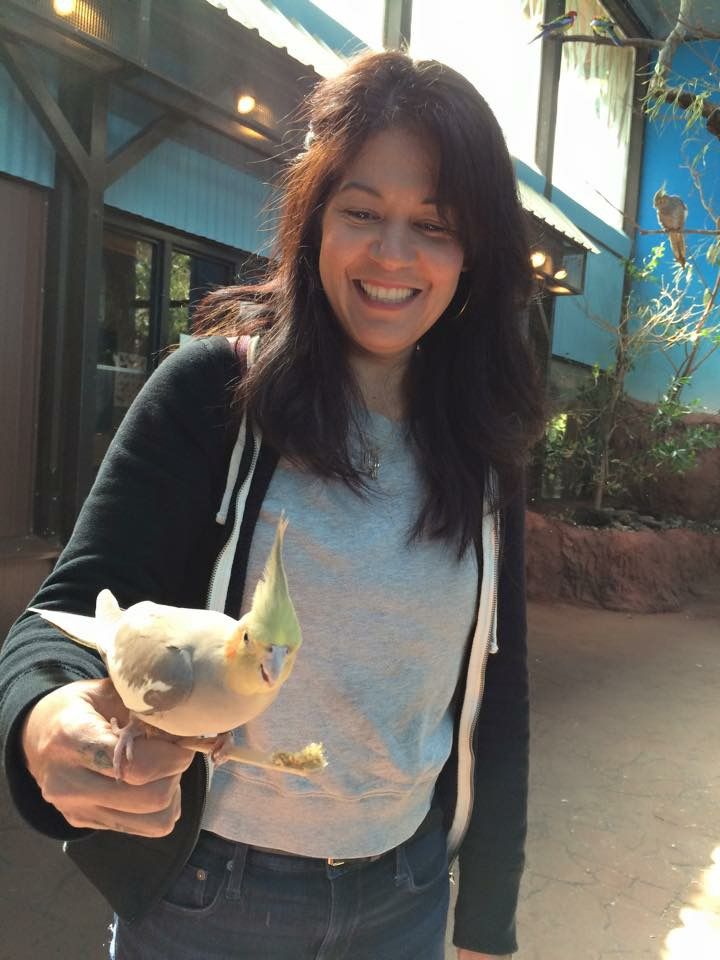 I had nice days with the boys while Crash was at school. One of their favorite days was when I took them to the mall. We don't do the mall often, but I thought they'd enjoy it since they had been saving their allowance and I knew there was a Game Stop at the mall. Yep, they were excited when I broke the news to them. Even bigger surprise was when they went to pay I paid for their games. We stopped into Sees candy to check out all the Easter sale candy and the sales girl offered us a sample. i expected a small piece of chocolate but instead the boys each received a giant bag of jelly beans (and hot damn are their jelly beans yummy!!!!) AND a chocolate bunny! Wow! I received a delicious brown sugar cream chocolate egg. I need to remember that egg for next year because I was impressed buy it and normally im not a cream filled chocolate person.
All in all I think Spring Break was successful. The kids all got a lot of rest and relaxation, plus we got out of the house and did things together and for me 2 weeks of break was fine. It gave me time to chill with the kids more and that's always a good thing.