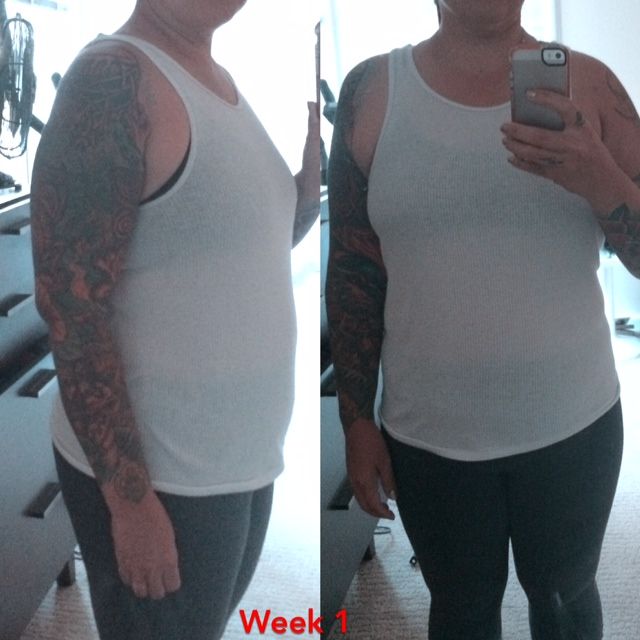 So this is me. I gained 10lbs over the summer but it feels like 50lbs! I'm slightly mortified that I am actually posting these photos but I feel it holds me accountable. Yes, I may have like 3 readers, if I'm lucky, but still it makes me feel accountable. I want to drop a bunch of weight, i've hired a personal trainer and had my first session. This is my journey.....
Yesterday, a week after my initial consultation, I had my first personal training session. I was super excited about it and was actually looking forward to it during the weekend. I really didn't know what to expect except that it was going to be much more intense then my usual workouts. I started the first session down 2lbs. from the previous Tuesday!
My first session started off slow. Much of the time my trainer was correcting and instructing on proper form and showing me some new exercises I would be doing. We did free weights, some machines, some cardio and some strengthening. To add another dimension to what i'm used to the trainer had me on fit balls, half fit balls and some balancing pads while using the weights. It was challenging and after one or two reps I could definitely see the benefit of this technique. On my own I would have never gotten on any type of balance anything while doing weights.
I did a lot of lunges, a lot of squats both with and without weights. I did crunches of all sorts. I new I was going to hurt the next day.
Today I am hurting. My legs ache. My lats and shoulders ache. My core aches. Truthfully I'm digging the ache. I know I worked muscle groups that haven't been worked in a while. I know there will be payoff soon enough. This is all worth it to me.
Along with the training i'm getting help with a nutritional component to all of this. They go hand in hand. I really learned my lesson about this 2 years ago and saw the results in a matter of months. My trainer will be tracking my eating habits and help me work on some meals to get me through the next few months. We have a target daily calorie intake of 1100-1200 as well as ensuring i'm eating 6 small meals per day with a maximum calorie cap up to 200-220 per meal (we're still working on the magic numbers but these are ballpark). This is a MAJOR change for me. But today has been good. With lots of water in-between I really haven't had any cravings. I've stuck to my small meals/snacks. I'll need to work on getting a teensy bit of variety in my meals and figuring out how to get maximum fullness with the little I have to work with. My third meal today consisted of a veggie patty, spinach and raspberries. I chopped up the patty and made a spinach salad out of all of it. It was good and really filling and super low cal.
I can do this!
No, I can rock this!
The days that I do not work with my trainer i'm keeping up with my own cardio either elliptical or walking and adding in some of the strengthening exercises I was taught. Today it was all about working on my core along with elliptical.
This is the start of my journey and i'm super excited.