We do a lot of family hikes. It's one of the outdoor activities we all enjoy doing and the more curios along the path the better. We constantly talk with friends and read about trails online that are family friendly, not super far out of the city, and if there are cool and interesting along the trail or at the end point even better!
On Sunday we went on a family hike to Franklin Falls. We had heard good things about the hike and how its great for family's. Franklin Falls is located about an hour East from Seattle on I90 within Snoqualmie Pass. The hike is only 2-miles round trip, which is easy peasy and only goes up to a 300-400 elevation.My kids are 10, 8 and 4 and this was nothing for them. The trail is not stroller friendly but it is clear and there are some railings on portions of the hike. It is important to note a couple things: If you are walking with kids parts of the trail drops off the edge with no rail so be careful about letting your kids run ahead and second Washington Trails Association are doing some work on parts of the path so there are workers around doing there job so there are little obstacles your child will need to navigate.
Getting out to Franklin Falls was no big deal, the directions are pretty easy to follow. However once you get into the vicinity parking can be rough unless you get there pretty early. As with most hiking spots if you find parking on the side of the road that will safely accommodate your car and leave enough space for passing cars you are likely good to go. We attempted the lot but to no avail and just parked on the side of the road in a patch of gravel.
The trail head is clearly marked and was meticulously marked and clear. It's mainly dirt/mud so be concious if it just rained or will rail while you are out there and expect mud and muck (maybe bring some plastic bags/bins to unload your dirty shoes when you get back to your car.) The trail starts pretty flat and runs parallel to a beautiful creek, within a short few steps there will be a few cut offs that leads to the beautiful creek. We let the kids head down to the water where they climbed over rocks, splashed a bit in the ice cold water and generally took in all the beauty.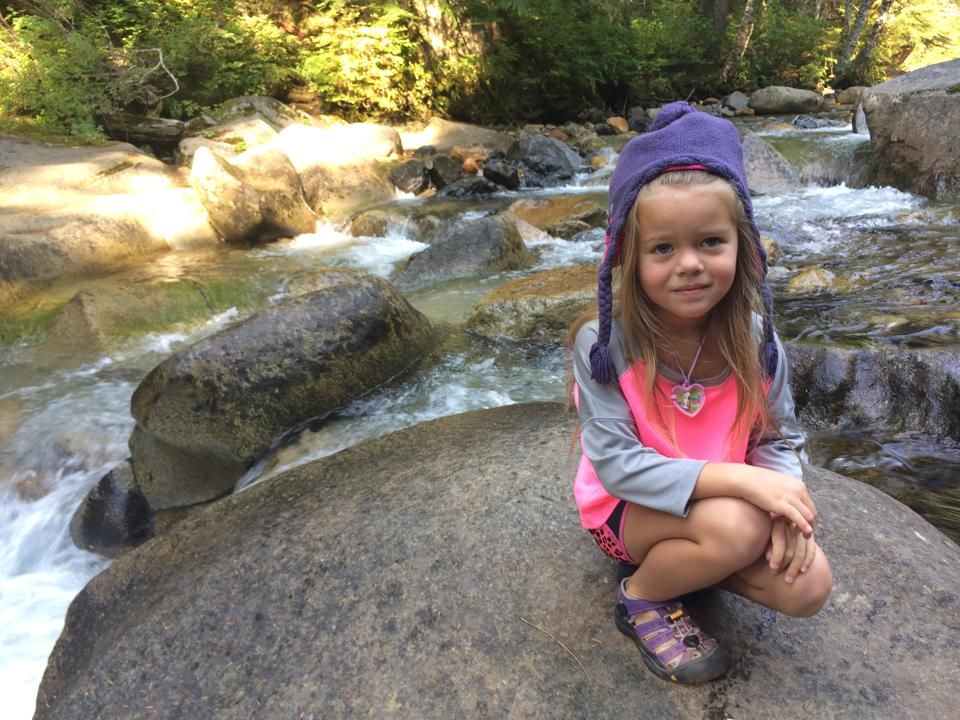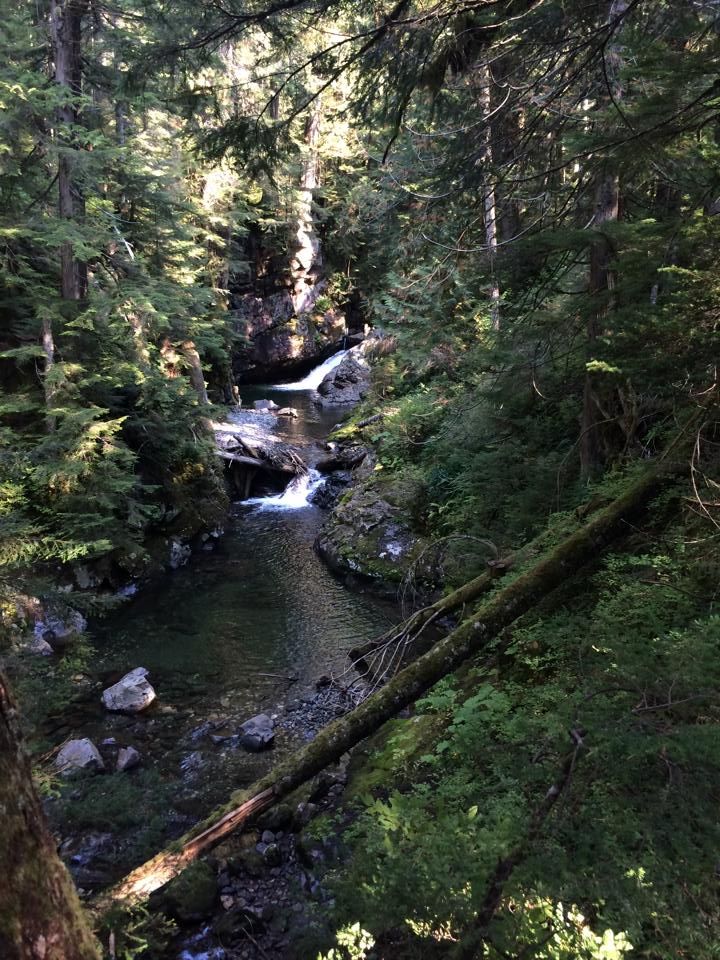 That right there, is a view of the creek from an upper portion of the trail. Isn't it sooooo beautiful?
Onward we went with the trail. The kids were overwhelmed with all the fungi growing around. We saw those giant ones you sometimes find around Seattle, Awesome orange and red ones with spots, weird alien types that looked like coral. It was pretty cool! The hike leading to the waterfall was nice and remained clear, yes the drop offs were sketchy, especially when my oldest is determined to give me a heart attach and walk along the edge!!!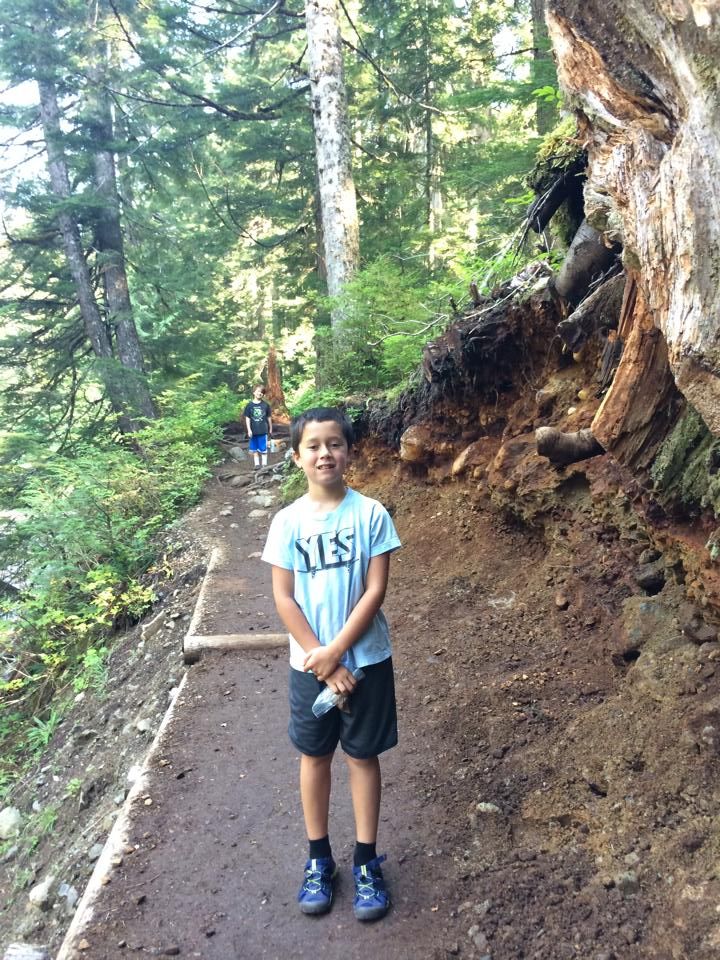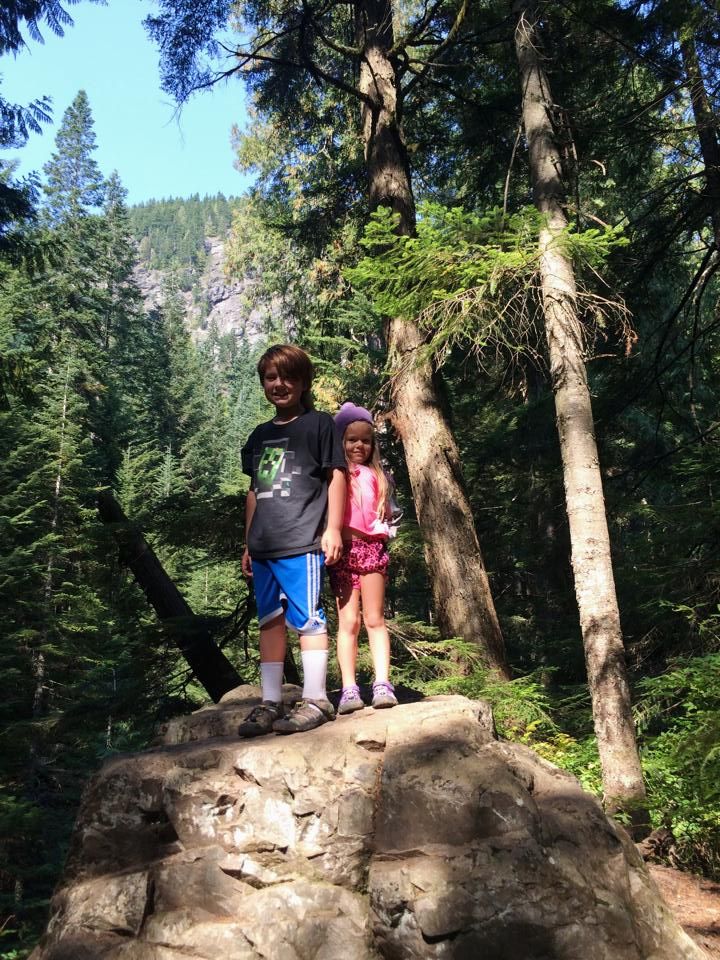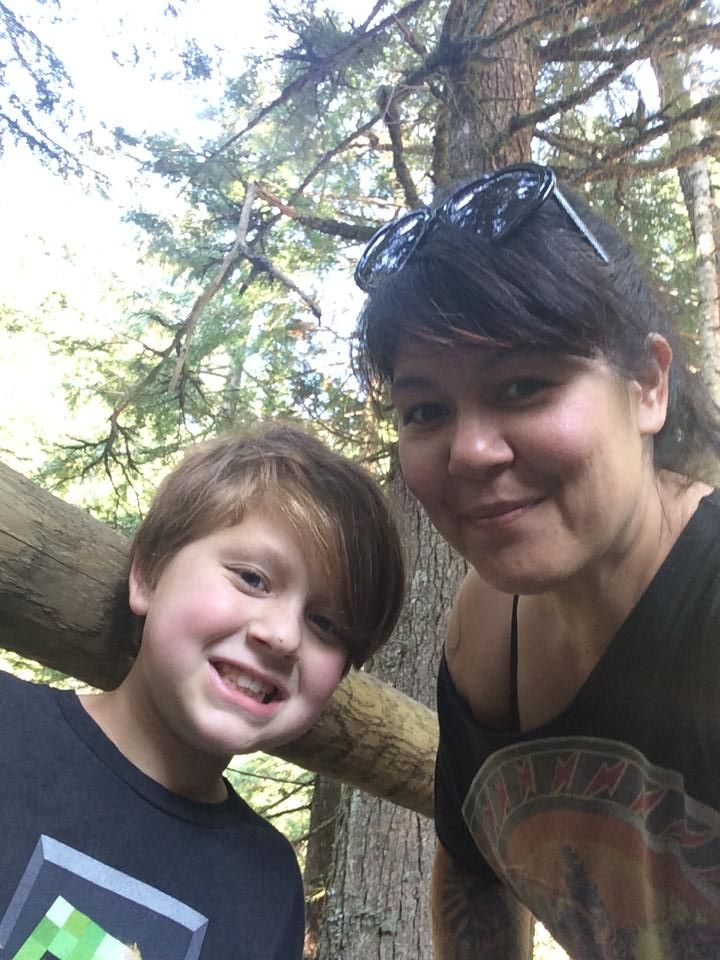 The trail did get questionable as we were making our descent towards the waterfall. There were lots of precariously stacked, smooth stones leading down and with everyone's wet feet walking over them all day long some of these stones became a little slippery and the surrounding dirt muddy. I held on to my daughters hand and carefully led her down. The final decent to the falls is really a one lane path that is just along the hill side. It is a stone and mud pathway, with not much to hold on to and it descends and curves simultaneously. If you are lucky no one will be coming up while you are trying to get down or vice versa. Be safe and go slow are the only words I can offer up. We made it down safely and it was worth it.
Pack a lunch and carry it in a backpack because this is the best resting spot ever. You can literally get right up next to the falls, the back spray is cool and refreshing and if you want you can even get in that water.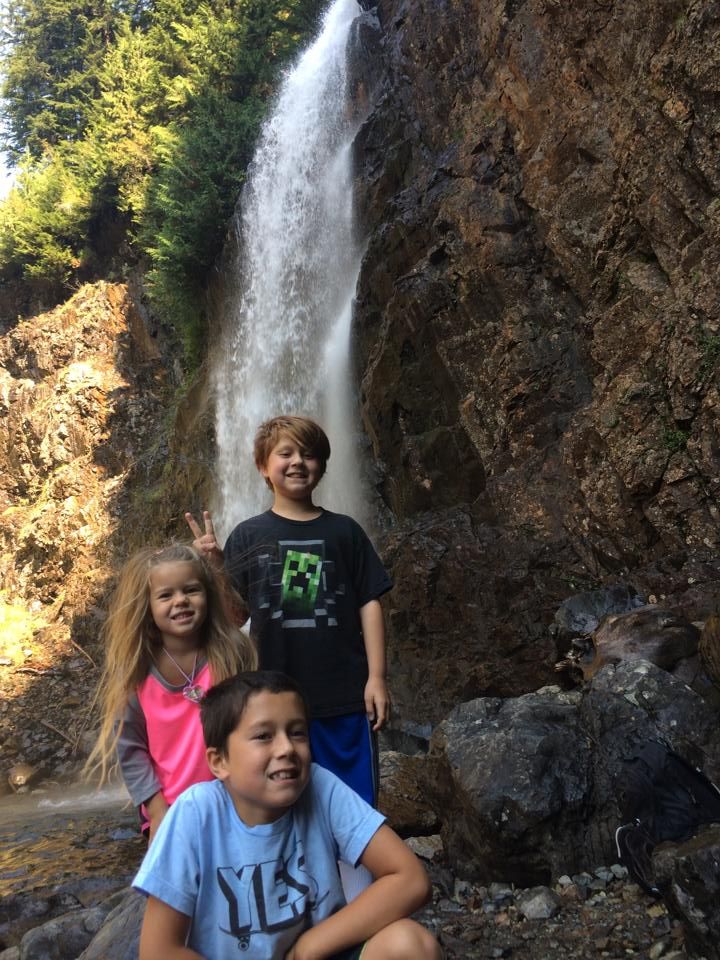 The kids had a great time! All in all the hike took us about 2-hours round trip. Nobody felt overly tired or felt that the hike was to much. Excluding hiking around Discovery Park this is one of the shorter hikes we've taken the brood on but it was perfect for this day. If you are looking for an easy hike for your kids I would recommend Franklin Falls. There is a campsite near the trail head so you can even make a weekend of it if you wanted to.
Details here and directions below:
From Seattle, head east on I-90 to exit 47 Denny Creek/Tinkham Road. At the top of the exit ramp turn left and cross over the freeway. Go .2 miles and turn right at the stop sign onto Forest Road 58. The road crosses under the freeway and after .2 miles turn left. Continue ahead for 2.4 miles and take a left just after Denny Creek Campground and arrive at the Franklin Falls trailhead.