Last year I heard about this indoor playtime that took place in a gigantic indoor sandbox and all toys were included during the play. Bur for some reason or another I never, ever got around to taking my Little to play.
Fast forward to yesterday.....I finally took her. The place I'm talking about is Sandbox Sports located in Georgetown*, here in Seattle. Sandbox Sports is an indoor beach volleyball facility, they offer leagues, classes, drop in games, and camps for junior players in the summer. So you can imagine that they must have a phenomenal indoor facility! A few days during the week they open up their amazing sandboxes to the wee ones (aged 5 and under) for indoor play.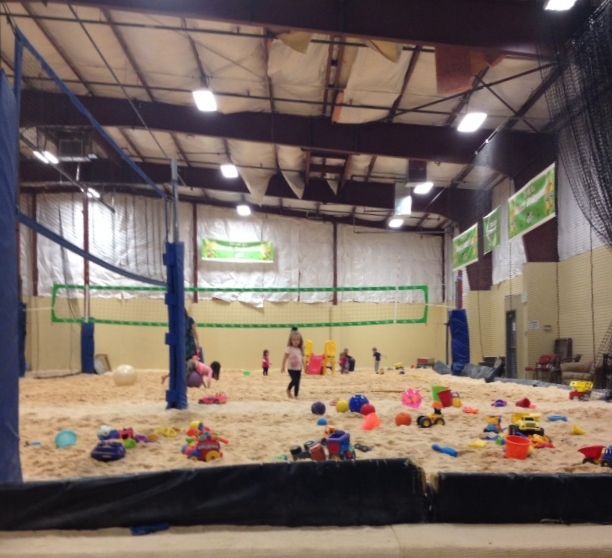 The large sand area is broken up into a few courts and one half of the entire space is dedicated for indoor play. Sandbox Sports provides all the toys your kids can handle but if you'd like they do allow you to bring in your own toys, at your own risk, but seriously it is not necessary. There are shovels, trucks, balls, buckets, slides, sand shaping toys....yep, its all there. The sand is so soft and very clean its actually a pleaser to be in the sandbox digging your feet into the sand while watching your child play. And I do want to stress that the sand is high grade, impeccable indoor play sand. They do hose down the sand a bit so some of the sand is damp, not enough to get you wet but the perfect amount for kids to scoop and shape and build their perfect sand castle!
Sandbox Sports allows you to bring in your own food and drink. They have tables available as well. I believe they do sell smaller snacks and drinks should you need them during your play time visit. As far as I could tell the only rule with food and drink is that they are not allowed on the sand.
My daughter had such a fun time and I will definitely be bringing her back to play. Look at those pics above, the place was empty!!! Counting my Little there were a total of 5 kids!!! All that sand and play space for 5 kids! Pretty awesome, huh?
Here are the deets (Follow the link to download a waiver ahead of time)
5955 Airport Way S., Seattle
They do have a small parking lot
Mondays, Wednesdays & Thursdays ONLY
Session 1: 9:30AM-11:00AM
Session 2: 11:30AM-1:00PM
Admission is $6/Child/Session and one free adult per child
They do sell punch cards $50/10 visits
*Georgetown is worthy of its own separate Field Trip post! But if you decide to go there are a few cafe's for coffee, a snack and Square Knot Diner is a perfect spot to grab lunch! All this is literally across the street but please don't be rude and leave your car in Sandbox Sports if you leave to grab a bite. If you do families attending the second session won't be able to park.
**Inside tip: If you stay until the end of playtime after the second session, and they bring out the buckets to pack up the toys, if your child helps out they'll earn a piece of yummy licorice. We stayed and helped, my daughter thought it was all part of the fun!