Over the course of the last year I've seen so many photos of these giant cowboy boots and cowboy hat located in Seattle. They are giant and kitschy and epitomizes all those crazy roadside attractions scattered throughout the United States. But this bit of kitsch was located in Seattle and I felt the burning desire to find out where it was located because I NEEDED to see it!
I recently found out these bits of Americana are conveniently located right in Georgetown here in Seattle, at a park called Oxbow Park, a mere 10-15 minutes from Pike Place Market. Yesterday my little Crash and I headed to Oxbow Park and I promised my little that she was going to say "Whoa" the minute we pulled up. And "Whoa" she did!!!
Oxbow Park is a little patch of cuteness right off Corson Ave in Georgetown. Besides the giant orange hat and blue boots there is a nice amount of manicured green lawn and a new but modest play structure with all the necessities (slide, steering wheel, climbing sections and spiral poles). There is a nice meandering, graveled pathway, benches, picnic tables and bike rack. At the far end of the park is a great community P-Patch that is well used and well loved.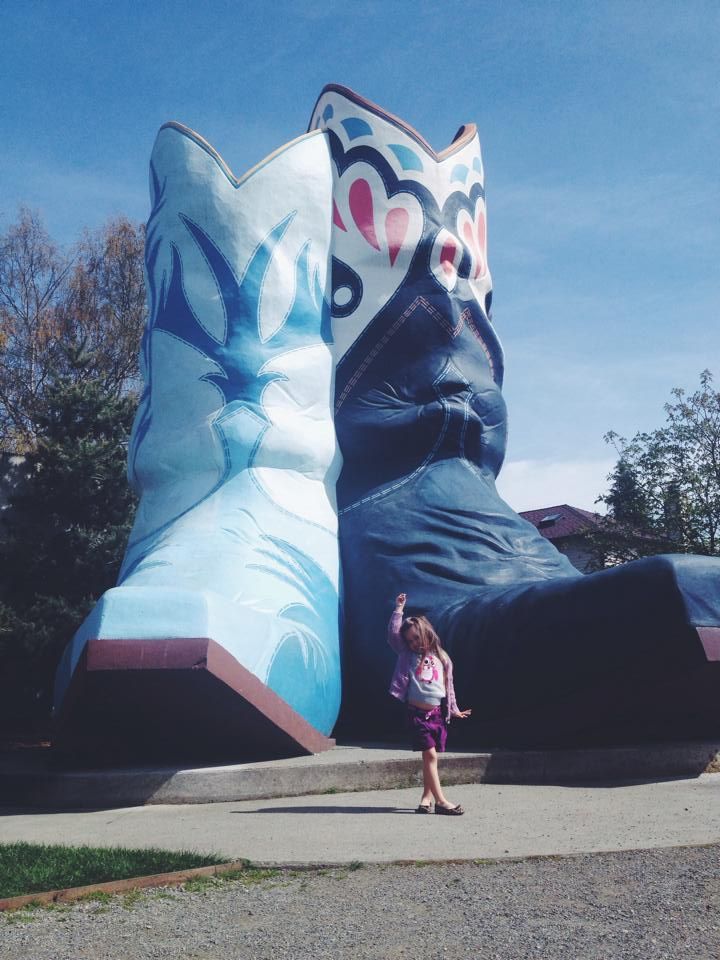 We lucked out yesterday, the sun was shining bright and high in the sky and the weather was cozy and warm and we just soaked it all in. I had a great time watching her run and play around the boots and enjoying the time at the play structure but the best part was watching her sitting in a patch of sun on the grass picking dandelions
!
It was a great Thursday!
Oxbow Park is located at:
6430 Corson Ave S, Seattle, WA 98134