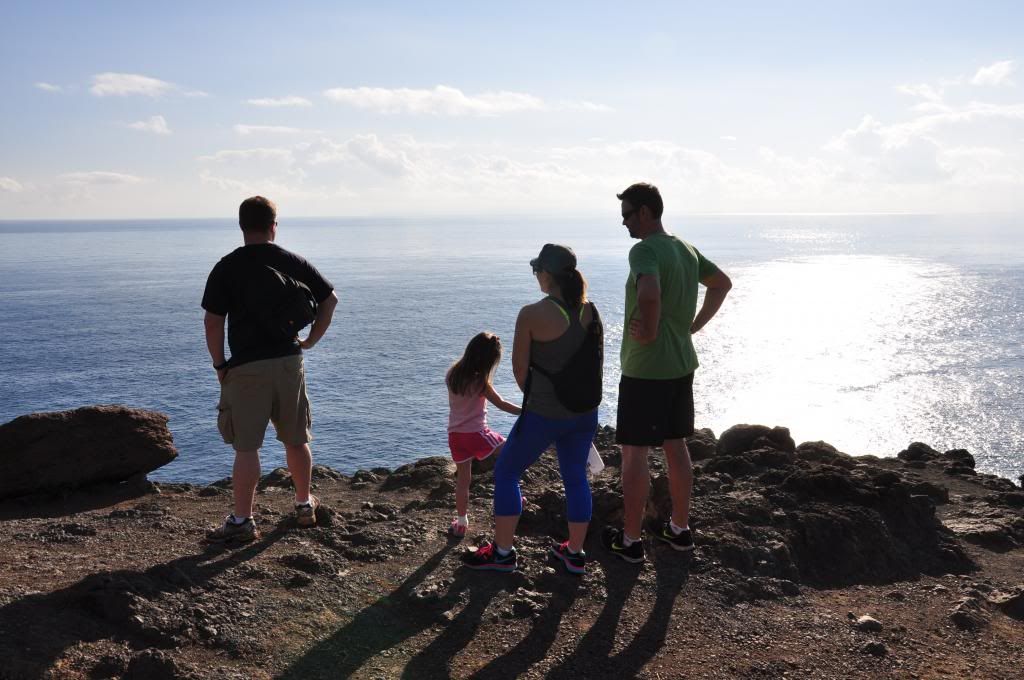 As usual Hawaii was the most fantastic break from our day-to-day lives. After a couple of months of cold and gray its always nice to pack up the swimsuits, shorts, tees and slippers and jet off to sunshiny Hawaii to hang on the beach and visit my entire family. This year some buddies of ours also flew out as well and it was their first time to Oahu; my brother-in-law also came out for the trip from Washington DC. Needless to say we had a nice group with us.
Per usual we stayed with my parents which I cannot complain about. They live in the same town I grew up in, Kailua. My favorite part of the island and the only part i'd live should we ever decide to move back. My entire family still lives in Hawaii so we always have a "homecoming" sort of BBQ when we get in to town, that way I have to opportunity to say hi to everyone all at once.
We did some mild hikes, lots of beach time which included a lot of boogie boarding and showing my friends around to some of my fave spots. It was nice that they weren't into a ton of touristy sites and it also helped that their time share was in Waikiki so they could do lay out on their local beach everyday.
I checked out a couple of new restaurants:
Restaurant Epic
in Chinatown and
The Food Company
in Kailua. Restaurant Epic was delicious. It was one of the few nights we actually went out without kids. We were joined by our friends and BIL and we had some delicious food! We missed happy hour by 20 minutes which bummed us all out because so many of the reviewing on Yelp talked about their poutine which is only available at Happy Hour. We asked if we could order some and would even pay non-HH price but they wouldn't budge! Oh well. Our apps were great we ordered a butternut squash pot stickers which was very reminiscent of pumpkin pie, brie-green apple-walnut quesadilla (yum!!!) and short rib ravioli. Sadly they were sold out of the pork belly confit! The apps went over well but the dudes didn't care for the squash pot stickers (I on the other hand, am a butternut squash junkie!!!) I didn't get to fancy with my dinner and order the "Holy Crap That's a Lot of Bacon Burger" and holy crap that's a lot of bacon is right!!!! Seriously one of the best burgers and it would definitely rank in my top-5 most tasty burgers of all time. The burger included cheese, lots of juicy, thick cut bacon, bacon jam, bacon mayo, veg and all served up on super thick, grilled Hawaiian sweet bread. ****mouth is watering!!!!*****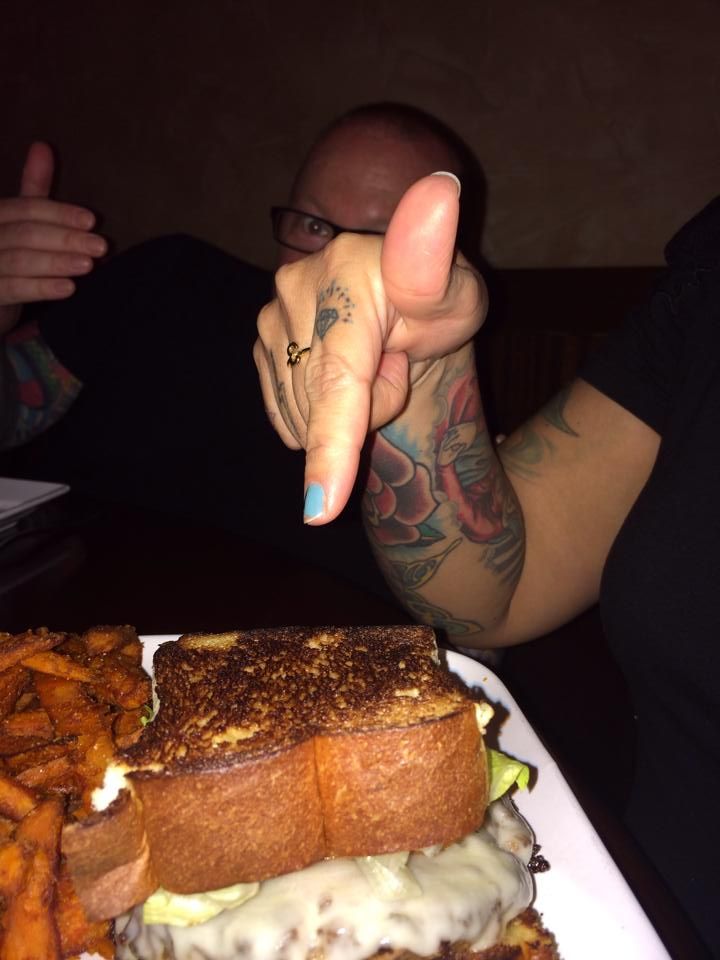 The Burger! Sorry the picture isn't to great.
At the end of our first week in Hawaii, and the conclusion of our buddies stay we spent a luxurious 3 days and 2 nights at the Disney Aulani hotel. We sprang for a 2-bedroom villa and it was worth every penny. We were able to check in exceptionally early on day-1 and stay extra extra late on day-3 - Thank you so much for the aloha Aulani!!!!! Don't let the Disney name fool you the Aulani is one classy resort. Great fun for the family with multiple, gorgeous pools that has all the bells and whistles, reef like rocks surrounding the pools, grottos, underwater whale sounds, water spouting volcano, water slides, a lazy river, hot tubs, 18 and over pool, 18 and over infinity hot tub and more!!!! Man it was amazing!!!!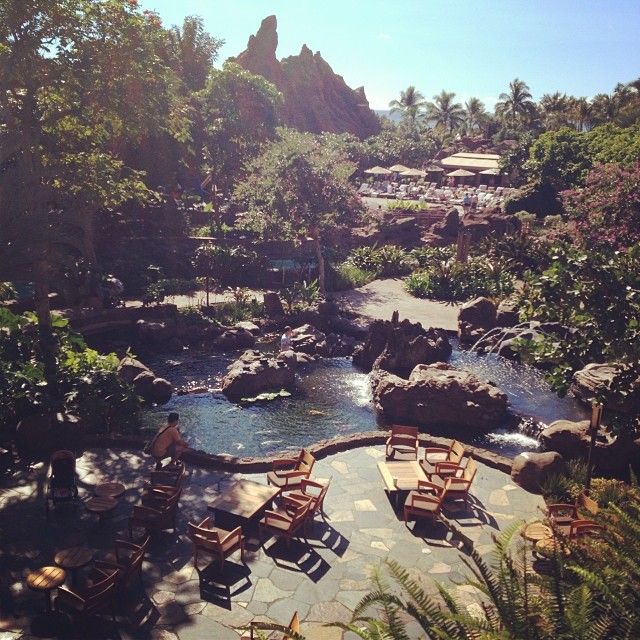 Disney Aulani
There are lots of activities you can sign up for, which we didn't. Disney characters making their appearances sending everyone into a tizzy and a fabulous character brunch which is offered daily. I attended the brunch twice. Once with my friend and her daughter and of course my little Crash and for a second time with my family. The kids all loved it, they got their photo ops with their fave characters, had some delicious food and the entertainment provided at brunch was so much fun for the kids. I mean, I was so surprised when my oldest jumped in to join the kids parade through the restaurant.
The Aulani has a fabulous, childcare spot called Aunties Beach House. This is included with your stay and offered for all potty trained kids up to 17-years old. Not to say there were 17-year olds there and the oldest kids I saw were maybe 14. Aunties is amazing! First off they have the security locked down so there is no need to worry about your kid running out or a stranger picking up your child. Each child is issued there own computerized security bracelet and the front desk staff are able to locate your child anywhere within Aunties. Aunties is deceiving large, at first look you only see the front "living room" which is big and you may think that is the only space but oh no it is not. It's set up like a house so there are multiple rooms within. Upon entering all children (and grownups) must wash their hands then they are free to explore and participate in activities such as story time and painting. There is lots of dress up for both boys and girls, my daughter was in heaven with all the princess costumes!!!! There is an arts and crafts room, computer/gaming room, movie room (with more costumes), multi-purpose game room reading space, dining room (which i'll get to in a sec) and a big back yard with tree house, play structure and toys!!!!! Aunties provides snacks at specific times during the day as well as offering meals for parents to purchase in advance. We ordered dinner for the kids on our second night. Meals a $8.50 per child and its served buffet style and offerings are all kid faves: rolls, veg, chicken tenders, burgers, pizza, mac and cheese and fruit kabobs for desert (at dinner the kabobs are dipped in chocolate and covered in sprinkles!). Aunties also offers "premium activities" (which must be reserved in advance) like "Chip and Dale Surf Party" which was a dance party, interactive activity and even a little show by Chip and Dale which is the big highlight. My daughter attended the "Eruption Disruption" premium activity. The class is led by a Mad Scientist (awesome!) and his assistant and they learn about volcanos and do they even create the ever popular and always a crowd pleasing volcano eruption. She had a blast!!!!! We lucked out with that because she wasn't enrolled in the activity but I suppose there was a low enrollment and they opened up the program to the kids who were currently at Aunties. Even without participating in a premium activity my kids really enjoyed their time at Aunties and i'm not going to lie I enjoyed my time without the kids. You better believe I DID NOT spend it in any of the non 18-or over pools or hot tub!!! Again, Aulani does it right offering both family fun and also kid only fun and parent only relaxation!!!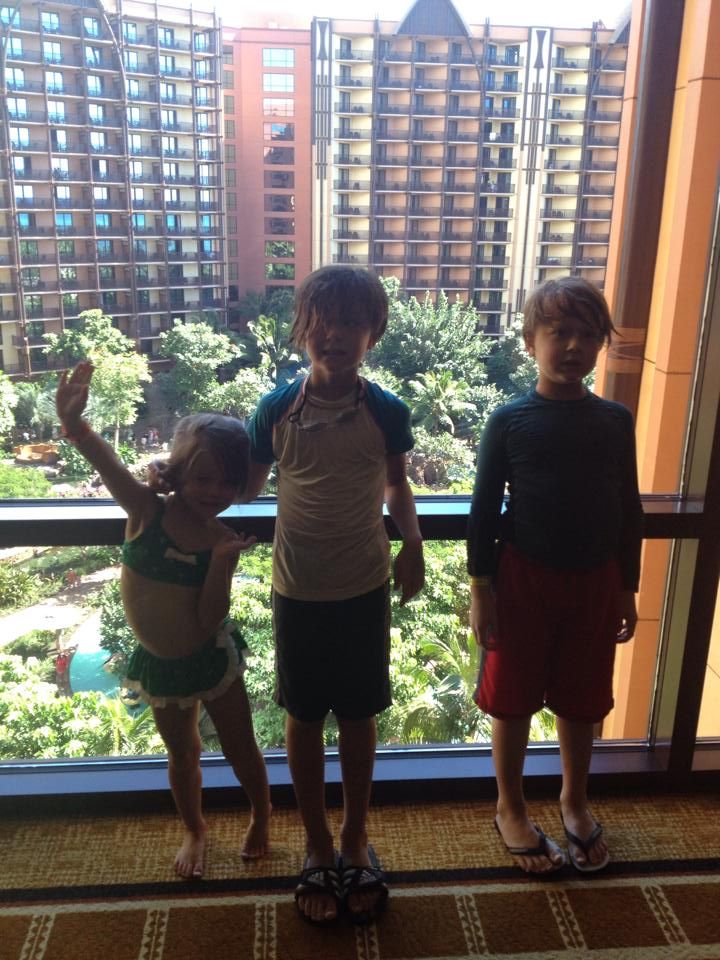 Aulani
I got sick at the end of my vacation but that's okay. I used the time to rest since we were so busy. As always Hawaii is the best, especially when we are able to get away when our city is gray and cold! It's sad we only seem to get back once per year but you better believe we always make the most of it. Until next year Hawaii!!!