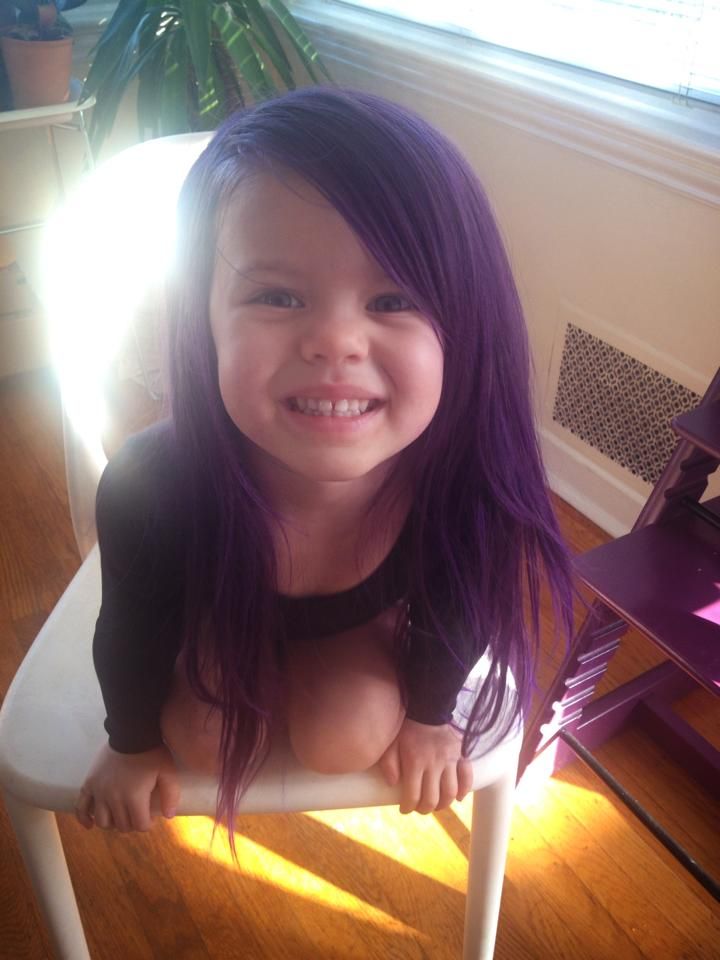 Crash officially started preschool this past September. As a toddler, she attended daycare when we lived in Portland then spent her first year in Seattle at home with me, full time. But she is in preschool and just loves the idea of going to school. And I mean everything that goes with it: carrying a backpack, having her very own lunch box and getting all dressed up just like her brothers. I was excited for her to start preschool and excited about the school she would be attending. It would be the preschool's inaugural year, the Director was a person I truly enjoy and the curriculum sounded so promising. The year started off great! Crash attends school 3 half-days per week and each day is 3.5 hours long.
We are now at the half way point of the school year, pre-registration for next year has reared its ugly head and i'm at a crossroads. I decided to not pre-register Crash for next year, I feel like I want to explore my options with regards to a strictly pre-K program and to pre-register (in effect "save her a spot") at her existing school I'd have to pay a non-refundable first month's tuition ("deposit") and a non-refundable $100 materials fee, that is a lot to ask for! I decided it was better to roll the dice and hold off on pre-registering until I know exactly what I want for her. Her current preschool is a blended environment of kids aged 3-5 years old. The advertised curriculum for next year has changed greatly from what sold me on the school last year. They updated brochure is filled with emphasis on a play-based environment, which I normally steer clear of. I'm all for play and kids get lots of that in preschool and pre-k but I really want to someplace that can provide a solid kindergarten readiness for my child. I've talked to some of the other parents about their feelings and many of them are happy with just the socialization. Yes, that is good and my child is beyond social and that does not concern me but being ready for kindergarten is important to me.
My boys are not that far removed from kindergarten which gives me some insight of what she will need to be prepared for when her time comes to start elementary school. I don't believe a blended, play-based, environment will provide her with the foundation she will need. Crash is ready to learn, she is super curious about letters and words. She is not getting any nurturing with this at school now which really leads me to believe that next year would be more of the same.
Honestly, if it isn't obvious, I am leaning towards removing her from her current school for the next school year. I want my child to get the best possible start to her educational career as possible. My two boys went to two totally different pre-k programs. One was definitely more play-based but it was a strictly pre-k classroom and they did do some kindergarten readiness curriculum every day. My other son attended a school where two days a week he was in a blended classroom that offered a lot of structured, well thought out activities and games and three of the days were for pre-k only for 50% of the day focusing on strictly academic learnings. There was a huge gap between what my 2 boys learned and how that affected them each in kindergarten. Yes they are different people, with totally different talents, interests, demeanor etc. but the readiness of my younger son far surpassed my older son. This has set my expectation pretty high in terms of what I want for Crash.
Pre-K programs are hard to find and the good ones you can guarantee that you'll be on a wait list before you even realize you want to apply. There is a fantastic pre-k program right in my neighborhood. It's sought after and I've already learned there will be, at the most, 4 open slots for next year. I contacted the director and she told me interest is high and that if I want a chance of getting in I should get in line early in the morning to ensure my application goes in first. Open reg is next Tuesday at noon sharp! Yeah, i'm not one of those crazy, stand in line for 2 days people.
I don't know. The more I think about it and research it the more I become frustrated. I want to set my child up with as many advantages as I can provide to her but i'm not supermom and can only do what I can do. In my heart of hearts I feel like I can provide her with a great homeschooled Pre-k head-start. I can work with her on basic math concepts, basic literacy concepts and lead and investigate the world with her. We did it before but in more of a curious, adventurous manner. I love hanging out with my kid, being able to teach is what I am in the process of researching. I feel like I can do it but knowing I am the one providing the tools and foundation does scare me a little (excites as well, don't get me wrong). But I'm lining up my ducks in order to decide if this is something I want to tackle. We do much of this type of things most days but to dig deep and really provide the groundwork is something new and exciting. Im thinking and deciding - having Crash home with me again would be awesome. And along with all her extra curricular she will be one well rounded little kid! I have months to sort this out...........right?