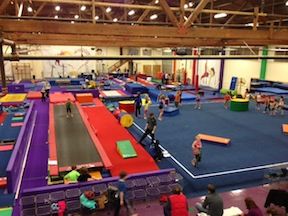 image from seattlegymnastics.com
As you can imagine finding indoor activities during Seattle's cold and wet months are a hot commodity. I'm sure every family has their arsenal of go to spots, I definitely do. One of those spots is indoor playground at Seattle Gymnastics Academy in Ballard.
My kids have been taking classes at SGA for a year and love it, this is how I learned about Indoor Playground. I can't think of a better way to burn off some steam then playing at the gym during open play time. Kids are free to jump on the trampolines and tumble tracks, dive into the foam pits or even take their turn on some balance beams and bars. For the safety of the kids high bars are off limits and these are clearly marked with bright colored signs.
Trampoline Fun

Foam Pit!!!!
Not only are the usual gymnastic's
equipment available for use but there are open spaces for running around, twirling
about and space large enough for parents and kids to use the giant rainbow parachute for flapping about and letting the kids crawl under and let their crazies out.
Although a handful of coaches scattered about the gym during open play they are not their to watch your child but they are there to make sure equipment is being used safely. Parents must actively watch their child this is for their safety and this extends to you supervising your child's behavior towards the other children. That's not to much to ask, this is just common courtesy and is really the same expectation when you take your child to the park.
Unfortunately indoor play is off-limits to parents. Yes it is tempting to jump on the trampoline or cannonball into the foam pit, but alas we cannot. Hey, SGA if you stumble across this how about some adult indoor play time? Just saying.....
Indoor playground is open to all kids ages 12 months - 5 years and cost $6 for the general public and $4 for students. Indoor play is offered 6 times per week from 12-1pm Monday through Friday and from 12:45-1:45pm on Saturdays.
A word of caution the wetter and colder the day is the more crowded indoor play will be. And yes they do sell out and will normally post a sign saying so. Let me also point out on these days parking is a pain in the butt! I can't express this enough, parking will suck! On these day you can normally find some street parking along 14th ave.
You can purchase your ticket in advance by dropping by and purchasing your ticket for use later that day. My favorite time to take Crash to indoor play is the first sunny/warm day after a string a cold weather. The gym is nearly empty and the kids that are practically have the entire place to themselves!
SGA Ballard is located at:
1415 NW 52nd St, Seattle, WA 98107
(
entrance and parking lot on 51st Street
)