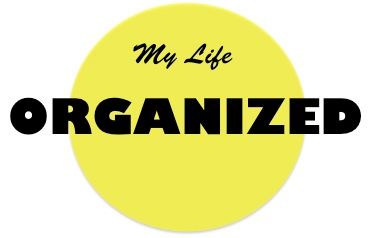 Now that schools been back for a couple of weeks I can start picking up the pieces from our summer. We lived with no real schedule or need to do anything and really lived each day as it came. This was wonderful when everyday is carefree with no need to be anywhere (barring camp weeks of course.) But it is no longer like that.
I gave myself a week to really just decompress and take a breath. I laid around, watched some TV and did a whole lot of nothing at home. I just enjoyed the quiet. However, I can only take a little bit of that and I do like the structure.
Since moving to our new house I really hadn't done anything that would put our household on any type of routine and I looked forward to doing so.
That being said I finally had the opportunity to put together a new cleaning schedule for myself. I've talked about my cleaning schedule in the past but now that we are in a new house I wanted to update my schedule. I used the same template as before, as I found the breakout daily breakout method so helpful. You can fid the template here. The only item i've since added is making the kids lunches in the "After Dinner" section: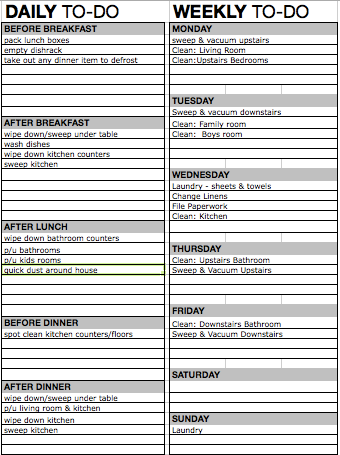 I've probably gone on and on about this but I find this so helpful in my day-to-day life. I never feel like I'm constantly cleaning, living in a disorganized/unkept home and the schedule allows me to plan other things around what I need to do on any given day. Prior to this chart I felt very overwhelmed and I see now that I was doing much more then I ever really needed to do. I am fully aware that there are things like mopping, cleaning windows etc on here, things that are a little more time consuming. But I do have a larger scale monthly checklist that I keep that includes this larger chores that may not need to be done that's not to say I don't mop, that's where the daily spot cleaning comes in. When I learned to let go and give in to the schedule I became a much more relaxed and lighter person!
I've also updated my dinner menu for Fall. I created a very loose summer menu which was hard to stick to. With the warm weather we all just wanted to grill and have very easy, on the go type of dinners. The return of fall allows us to have many soups and stews and crockpot meals! Yum!!!! I'm about 7-weeks in on the menu and ideally I like to have about 10-weeks preplanned so a few more weeks to fill in and I'll be set for the season. This will be a separate post once my menu is complete.
My household is getting back on track with our routine. I feel much more in control, I can plan my days so much better with the little D who is home with me much of the time. Organization is such a sweet thing!