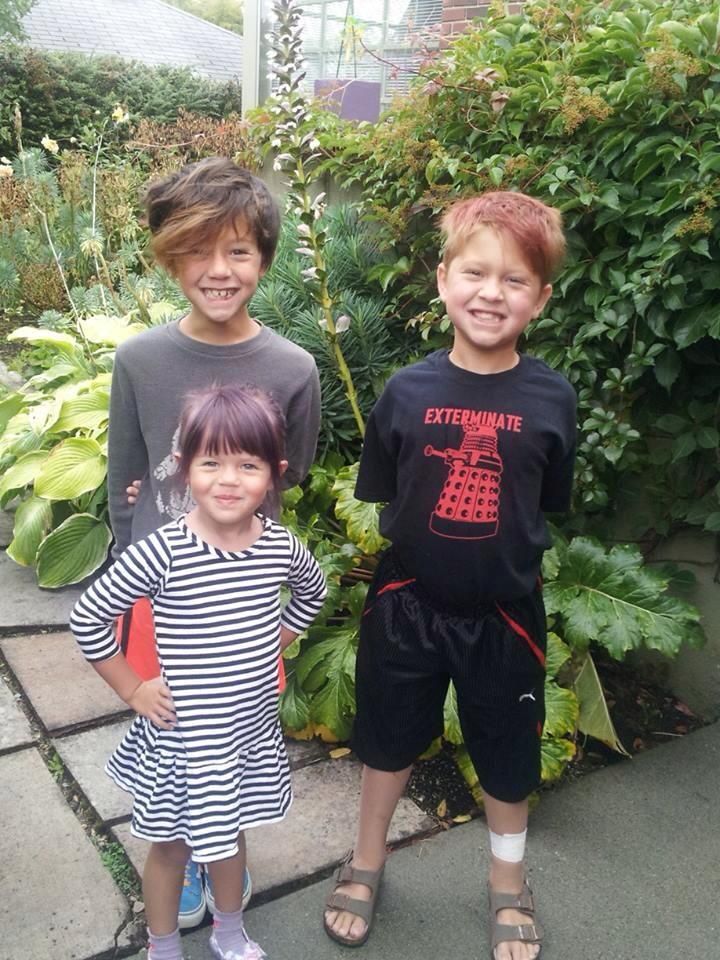 B:
Thermal Shirt - Shawn White for Target (2 seasons old)
Safety Orange Mesh Shorts - C9 Target
Turquoise/Orange Checked Shoes - Vans mid-cool '77
K:
Dr. Who Dalek Shirt - I bought it at the EMP but you can find it here
Black Puma Athletic Shorts - Purchased at Ross
Sandals - Bartell Drug Clearance, they suck and my kid threw them out
D:
Knit Black & White Striped Dress - Made by me
Butterfly Shoes - Tiny Toms
Yesterday all of my kiddos headed back to school. (Yippee!)
My boys were shocked at just how quick summer flew by but they were happy to return to school and see all their friends. We had a good send off and a good return. My boys boasted about how GREAT! their teachers are, how excited they are about the new year and especially stoked at seeing that some of their buddies from last year are in their class this year. My oldest boy, K, is now in 3rd grade and has a brand new, to the school, teacher. He has a great experience, was a professional dance and seems very vivacious. Having a male teacher makes my son super excited since he hasn't had one since kinder. I'm hoping for him to have exceptional growth this year and for 3rd grade to be memorable and fun! B is in 2nd grade this year. He has a seasoned teacher and said she is really nice and "doesn't yell at us." You know, because when you are a 2nd grade boy this really matters! He's happy to be back in the educational zone and ready for a good year. My little girl D is in preschool this year. She's done daycare in the past, took the last year off and is now back in the school circuit. She is super excited, will be going half days, 3 days a week and is super familiar with her teachers and facility. Her gymnastics academy has a preschool and the preschool incorporates daily gymnastics so this is perfect for her because this is the one thing she truly loves doing, gymnastics that is. The school is quite amazing and I see great things ahead for her.
As for me, I will know have almost 12-hours a week of alone time. I have yet to figure out how i'm going to spend that time but will figure that stuff out as soon as I decompress from a busy, sometimes stressful, sometimes crazy but overall super fantastic summer!
Kids go forth and blaze a trail for everyone else remember!