Located within Seattle Center, the International Fountain is quite the site to catch your breath after a day of museums and site seeing. The fountain is located near the Armory and Fisher Pavillion and could easily be overlooked if you stick around the ever popular EMP, Space Needle and Pacific Science Center.
The fountain is huge, provides lots of seating and is a free show in and of itself. When the weather was still a bit to cool for water play Crash and I would take our lunches out to the fountain, find a spot and eat our lunch and watch the water choreographed show. The fountain danced in time with the music spewing water 3-4 stories into the air.
Now that its summer and Seattle has gorgeous weather my kids love visiting the fountain more then ever. The fountain is a popular spot, providing kids (and adults) with tons of fun playing in the fountain and cooling off during our hottest of days. There are so many variations in which the water comes spewing out that my kids never tire of it and are constantly surprised. They run through the water, sometimes dodging a jet of water and at other times taking it square on the head, back or neck. Kids of all ages play and laugh together at the fountain and many times you see moms and dads getting into the water action. You can always tell when a child is not a local, often times they are running in the water with full clothing on, or a belted pair of cargo shorts and no shirt. When that poor kid is told its time to go he often doesn't have a towel to dry off and more times then not have to slide their wet feet into pre-worn socks and into their shoes. No biggie but it just doesn't look like fun. I think Seattle's toursits likely stumble upon the fountain not expecting that you can actually go in and enjoy yourself. I'm glad they do go in because its fabulous!
The fountain is set lower then ground level, much like an amphitheater and there is a spiral like walkway on one side of the fountain. This walkway and the outer rim of the fountain provides for ample seating. Often times I just spread out a towel, lather up sunscreen on myself and kids and let them have at it while I lay back and soak in the sun. Normally I stay up along the outer rim but on hot days I do plant myself along the edge of the lower, spiraled walkway where I know i'll be able to feel the mist of the water when the wind blows. As I mentioned the fountain sprays are choreographed to music playing over a loud speaker and its so beautiful to watch. Its like a ballet but with water and its so perfectly timed. Beat for beat, err...spray.
There are a bunch of grassy areas and a few kiosks with drinks and snacks immediately surrounding the fountain. Not to mention the Armory which is a 2-minute walkway. The Armory is an old artillery building which has been revamped and is now a fantastic food court holding many, fine local eateries as well as public restrooms, the Seattle Childrens Museum and office spaces. Pop into the Armory first, order yourself a lunch or snack to go then head over to the fountain and make a day of it.
I try to take my kids to the fountain whenever I go to Seattle Center, weather permitting of course. I keep some towels and swim clothes for them in my car so there is not much planning involved. Lately its been great as my middle child skates at the SEAsk8, the skate park, and while he's there my other two kids burn off some energy at the fountain. We head over pretty early in the day and its like my kiddos get that entire fountain to themselves for an hour or so.
I would definitely recommend a stop at the International Fountain when visiting Seattle Center in the summer. Pack a towel, swimsuit and sunscreen and you're all set. Your kid will work up an appetite and tire himself out. It's a free summer cool down and one your child will love and probably ask to go back to!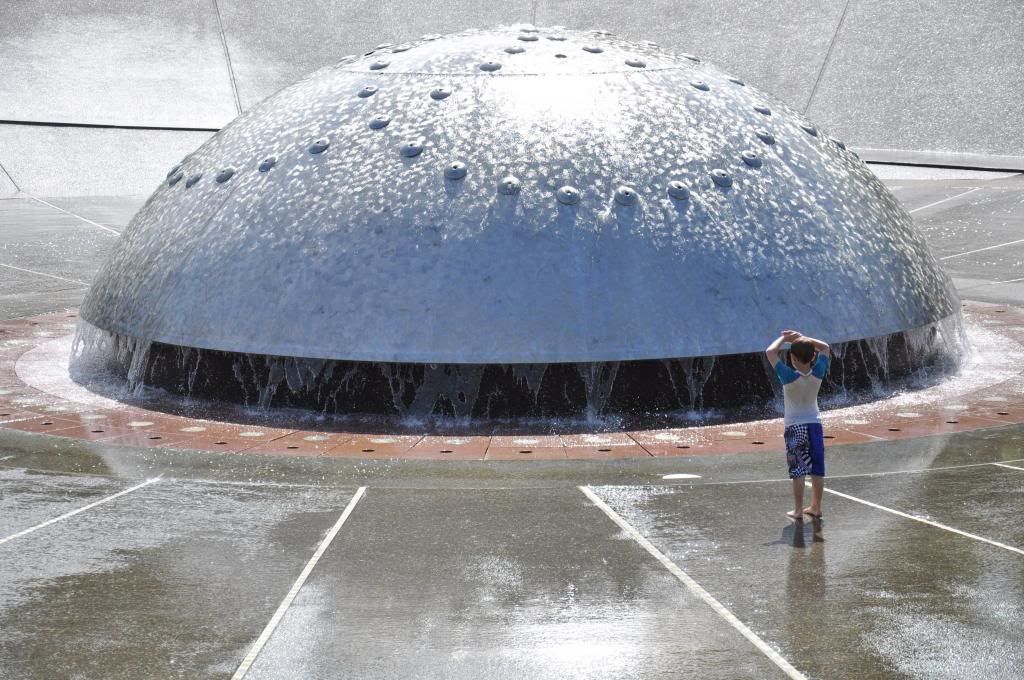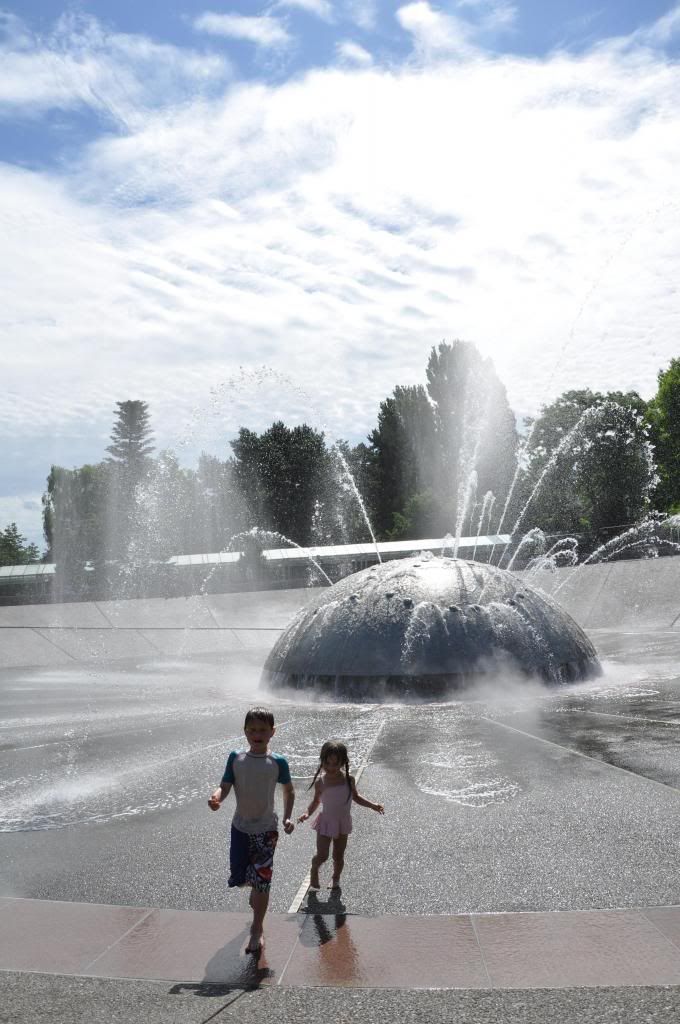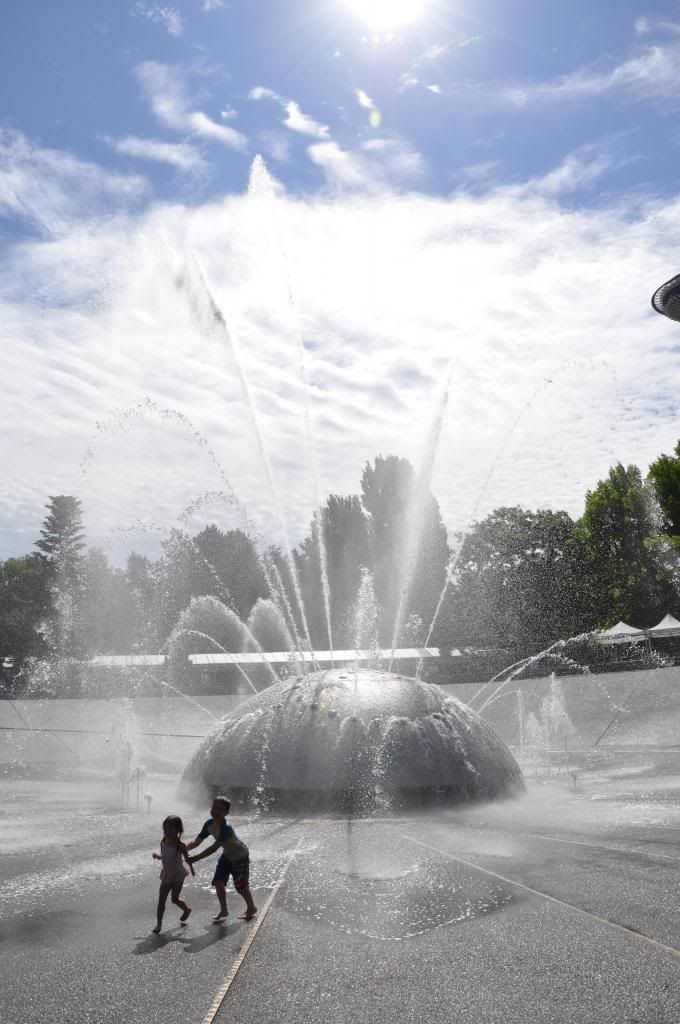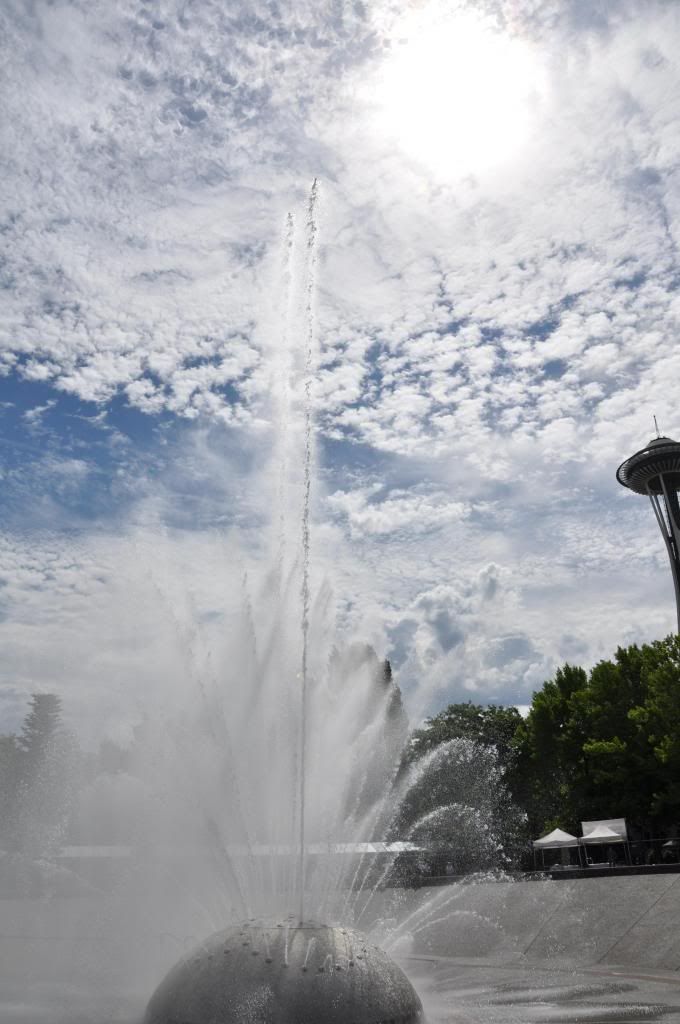 The fountain is located at:
305 Harrison Street
Seattle,WA 98109
(206) 684-7200