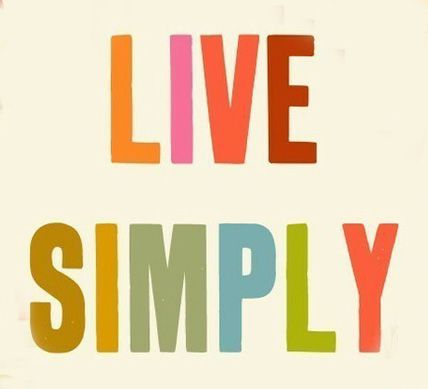 Nearly all of 2012 I learned to live simply out of necessity. It was a good exercise for me. Coming from a great paying job to living on unemployment was jarring to say the least. No more expensive shopping, on the whim eating out, buying the kids stuff just for the hell of it. I became very frugal and very creative.
I adopted POYEL and to say this was nearly life changing for me is an understatement. I carry these ideas with me daily and my home routine has never been more efficient and has given me so much time back into my life! I honestly believe the ideas shared in POYEL will be with me for the rest of my life, no exaggeration.
Now my family is in a good place but living simply has been good to us. As I've previously mentioned, this is something I want to continue in all areas of my life. My family is first priority and spending time with my kids has become essential, weather that means driving them between activities or just playing a game of UNO. I'm a person who values personal time and it is important that the time I do have is maximized and used in the most valuable way possible.
Figuring out where to start will be hard but I've taken baby steps and have gone through my laptop eliminating bookmarks that are meaningless to me and just take up my precious time.
I'll muddle through this over the next few weeks trying to figure out how to tackle this and get myself in a good place to live the life I want and to teach my family that living simply will be great for all of us.
Zen Habits has a great article called Simple Living Manifesto: 72 Ideas to Simplify Your life. There are a lot of great points in there that I will surely adopt as they line up to what I envision for my life.
We'll see where this journey takes me.