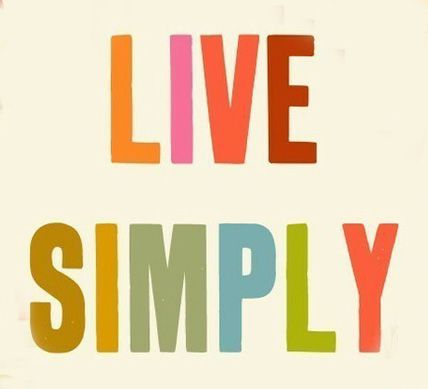 As I've stated here, I really want to continue living simply this new year. I've been using Zen Habits Simple Living Manifesto as a guide to help get me on track and keep me focused on organizing my priorities.
I spent some time going through the first five points in the Simple Living Manifesto. These points are:
Make a list of your top 4-5 important things
Evaluate your commitments
Evaluate your time
Simplify work tasks
Simplify home tasks
The time I spent thinking these things through was so calming for me. Reflecting on what I want to be important rather then making nearly everything important. I used to take so many things so seriously and made everything so urgent when it wasn't necessary. This ultimately made me feel rushed and stressed me out. A few years ago I made a promise to myself, this promise was to let things go. Things that didn't matter, things that stressed me out or caused drama and by things I mean people as well. I learn to not get mad about the little things, that just accepting the situation or make the necessary change/fix and move on. I learn to let go. Letting go was one of the best things I ever did for myself. I felt lighter and felt like I could live my life with less distraction. This decision that I made was the Best.Thing.Ever.
I've been on a long journey trying to get my life in a good place I made some progress but getting laid off, nearly 2 years ago, was the big push I needed. Now I'm in a great place. Living simply was the biggest change and the most impactful in my life. To continue living simply and to do it with gusto is something I want and this is the year I want to make it happen.
So, as I was saying I spent some time going through the first 5 points above and I came up with three items that are most important for me.
I've worked on limiting my commitments and the things I do chose to focus my energy on contributes to the lifestyle I'd like to achieve. I don't over extend myself. I only do things I truly want to do or my kids truly want to participate in. I don't make promises I have no intention of keeping and/or backing out of later when I realize I was crazy committing to it. I say what I want rather then just go along on someone else's ride. Doing this makes a difference and gives me the time I crave.
My time is precious to me. Whether it is spent with my husband, my kids or with myself I love the time I can capture to do the things I want to do. I've been able to simplify my day to day tasks and commitments to ensure I am able to capture the time I need to ensure I can achieve the quality family time, create a healthier lifestyle and improve myself.
My notes are a bit of a mess but its was super helpful to itemize all my thoughts.
Some of the main ideas I came up with that would funnel into my 3 main areas are:
Home Management

Dinner Menu (I have 11-weeks of dinner all planned

Freezer Meals (cooking in double batches so I can freeze half for the future)

Cleaning Schedule (Been using this for a year)

Having my kids do basic chores (frees time up for me and teaches them responsibility)

Cooking at Home

Dinner Menu

Baking & cooking with the kids provides us with some quality family time

Outside Activities

neighborhood walks (alone and as a family)

hikes (this has really turned into something we all love doing, nature is awesome!)

gardening (the kids really dig watching something they planted come to life)

outdoor games (soccer, catch, tag.... Fun!)

Exercise

unbeknownst to the kids they are getting exercise with their outdoor activities

I've learn to really love exercise and have been doing it regularly. I've felt so much healthier, I've noticed more energy with myself and I feel so much more confident

Less Screen Time

creating daily limits on devices

I've been able to leverage chores as a way for my boys to earn extra weekend screen time

side note: this is the one area I feel T and I really need to put effort in. I've offered some suggestions on how we can "turn off" on the weekends, in baby steps of course. I feel like this is the big pain point for me. I notice how much we are on our phones, looking at all those social apps, and it bothers me that my kids have noticed as well. They notice more with T then with me and are making comments. I'll need to brainstorm some limits and ideas on how to curb this. This will probably be a separate post some day.

Gardening

Again an outside activity

we can use what we plant (herbs, veg...)

We love succulents and my kids really love planting and owning their own succulents. These low maintenance plants have been perfect for my kids!

Getaways

We love seeing new places and I hope to continue with our little family road trips

weekend exploring, we're in a new state we need to explore!

the coast is a happy place for us and the family time we have their is amazing

Date Nights/Me Time

Finding the right balance for T and I to have time as adults together and keep that flame of "us" burning. This is important for any relationship and it really keeps the relationship healthy and ultimately makes us better individuals and parents. Time with out kids is important!

Finding activities we can do together without the kids. It can't all be about eating, right?
Nothing to crazy right? Totally attainable goals. Creating these lists and identifying what is important to me is a giant step in the right direction for living simply. I look forward to going through zen habits and working on more areas of my life and creating a bright, happy simple lifestyle for me and my family!