I'm always look for a simple, kid friendly, aesthetically pleasing craft(s) I can do with the kids. Especially when we have a long stretch of vacation in front of us, like now. We all enjoy craft time, I mean, really, who doesn't?
I found a great feather craft a few weeks back and bookmarked it for winter break. The craft was to make feathers using cardboard, acrylic paint and spaghetti noodles and glue. It looked simple, engaging for the kids and something we could ultimately display in the house and it would and to the overall decor of the living room.
I immediately started saving cardboard such as those for cereal boxes, granola bars, crackers etc..... sturdy yet thin. Next up was a quick trip to the craft store for some acrylic paint, as suggested by the original tutorial we used metallic and I'm sure glad we did because it was more beautiful and shiny then I expected. Supply wise it wasn't so bad and you may already have most of this in your craft supplies, for me I just needed to pick up paint.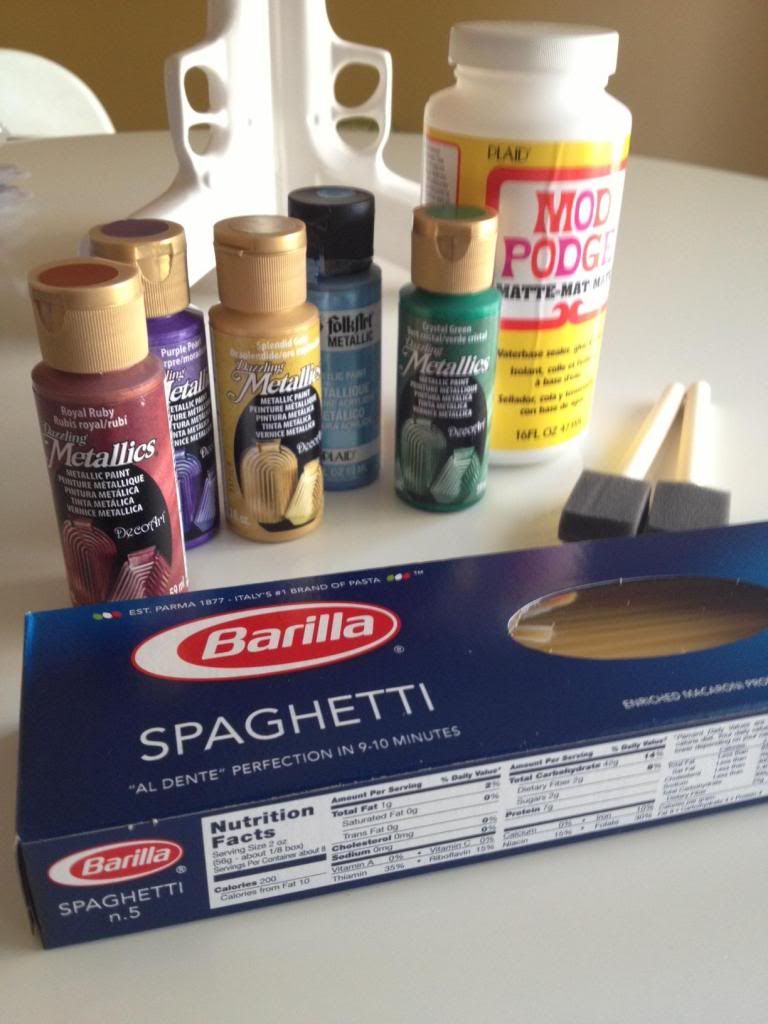 1. Metallic acrylic paint ($1.69/bottle)
2. Mod Podge
3. Foam Brushes
4. Spaghetti Noodles
5. cardboard
I cut out the feather shapes ahead of time so I didn't have to worry about doing this the day of the craft or having my kids try to cut the shapes out themselves. Maybe they would have liked to but that could have turned into its own craft activity. I prepared the the table with newspaper, laid out all the paint in little containers and brushes for each color, prepared the spaghetti noodles ahead of time and laid out in a bowl and we got down to business. We painted and glued, ohhed and ahhed at the beautiful metallic paint and for the record the gold was everyone's favorite!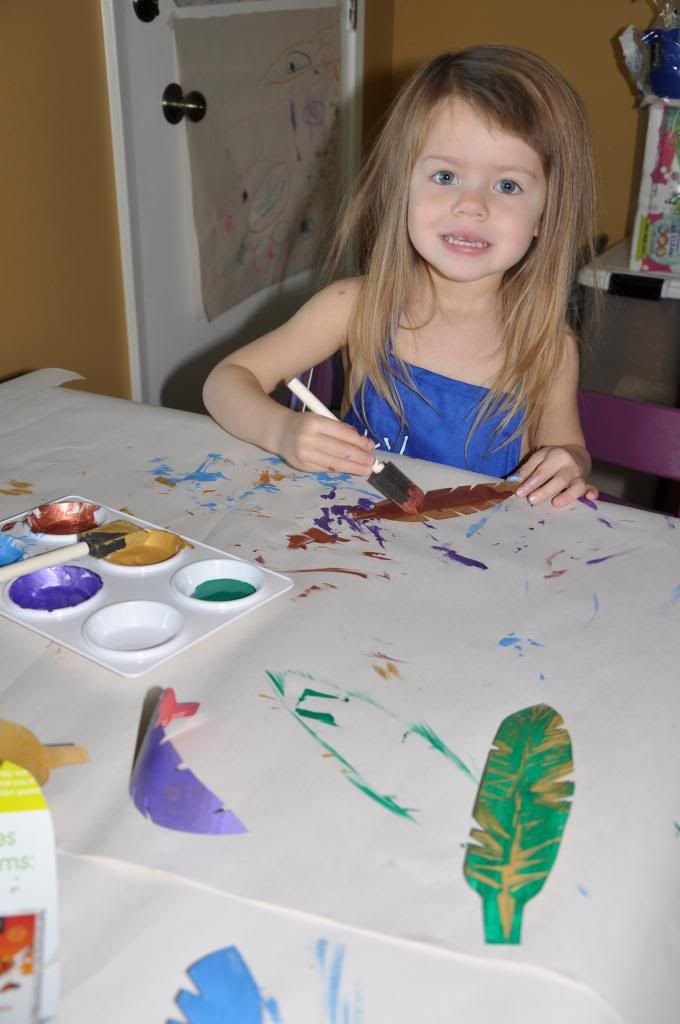 We waited for the glue and the paint to dry.
And when all was said and done we tied them up in two separate strands of garland and hung them in our living room
I think this may be my favorite craft project to date! I've worked on all sorts of arts and crafts with the kids but this was the first time that T joined us and he had a really good time. Towards the end of this project when the kids were satisfied with what they made there were a few feather left and T and I couldn't help ourselves and we continued painting and gluing. We laughed at the fact that it was just he and I and the kids were over it. It was fun for us, calming, happy and kind of a vacation for our minds. I think he may be addicted to crafts and even said he was a bit jealous that I get to do this with the kids. *awwwww*
If you're interested, here is the original tutorial of the craft that I found on Dana Made It. I love her blog!