We go to the Seattle Aquarium a lot. It's one of the places that we do have membership for and so far it has been money well spent. The aquarium is located along the waterfront, just below Pike Place Market and one pier over from The Great Wheel.
No matter your age or your kids age everyone loves an aquarium. No matter how often we go we are always fascinated by all the sea life. My kids cannot resist touching starfish or anemone and are now finally brave enough to gently touch the sea urchins. The collection at the aquarium is vast and beautifully laid out. Just after paying your admission the main lobby area of the aquarium boasts a massive floor to ceiling tank filled with a variety of fish and underwater life and no kid can resist the diver that makes an appearance to feed the fish and do a bit of "show and tell" for the gathered crowd. During the holidays there's even a diving santa!
We normally spend a good 10 minutes at the massive entry tank which the kids run straight up to and presses their body right into the glass to get as close to the fish as possible! There are two great interactive areas filled with anemones, starfishes and sea urchins, these tanks are staffed with docents who are happy to answer any and all questions, talk to you about the sea creatures and even pull out some of the animals for a more up close and personal look.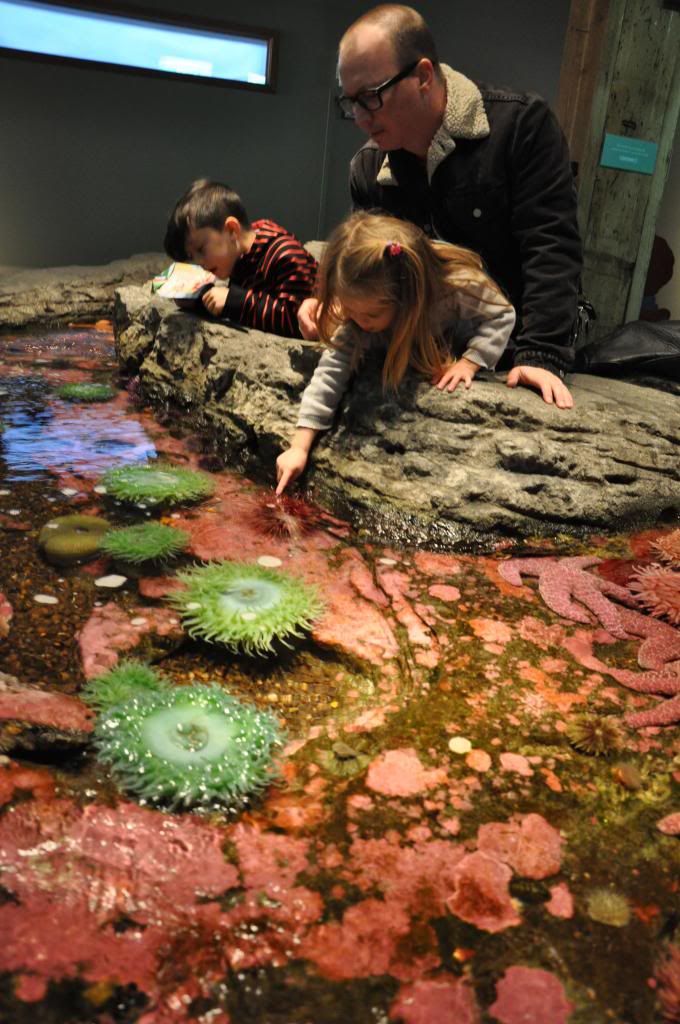 The aquarium also has two amazing octopi which seems to make the biggest impression to all visitors. The octopi are not shy and once they start moving and floating around it is quite the site. They are beautiful creatures and so, so, so amazing!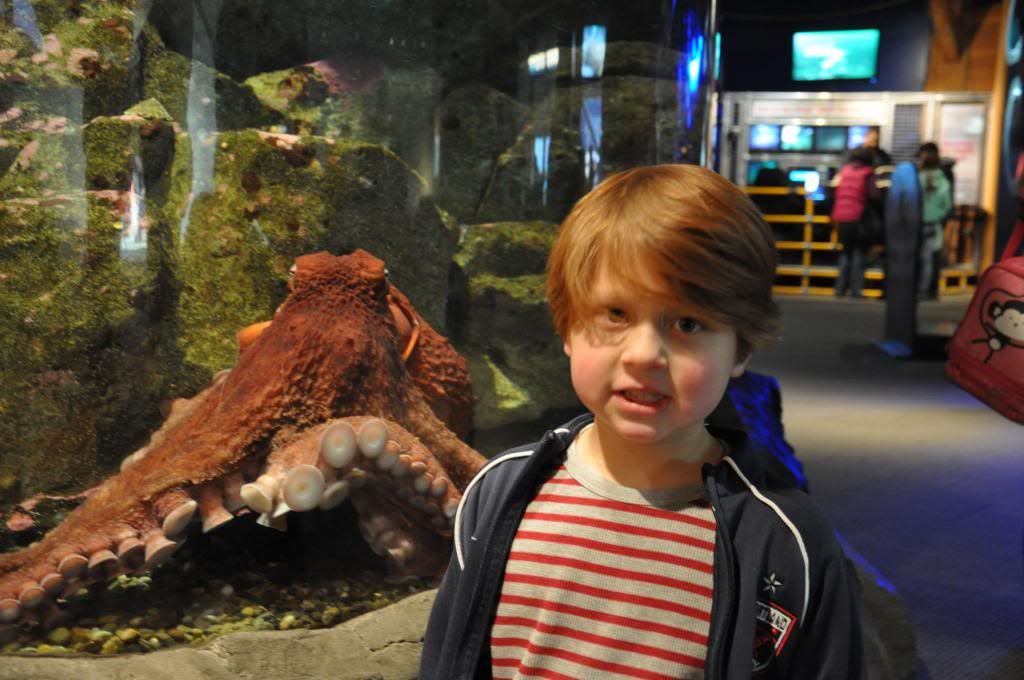 There are also jelly fish, sea life of the Pacific and Hawaii, sea horses, the cuttlefish are one of my kids faves, sea otters, sea lions birds and more. The aquarium used to have this amazing bridge/walkway so you could get a glimpse of the sea ladder but it is currently under construction to make way for a more amazing upgrade.
One of my favorite areas is the underwater dome. It's like a crazy submarined, amphitheater and you can see giant fish and giant starfish in every direction.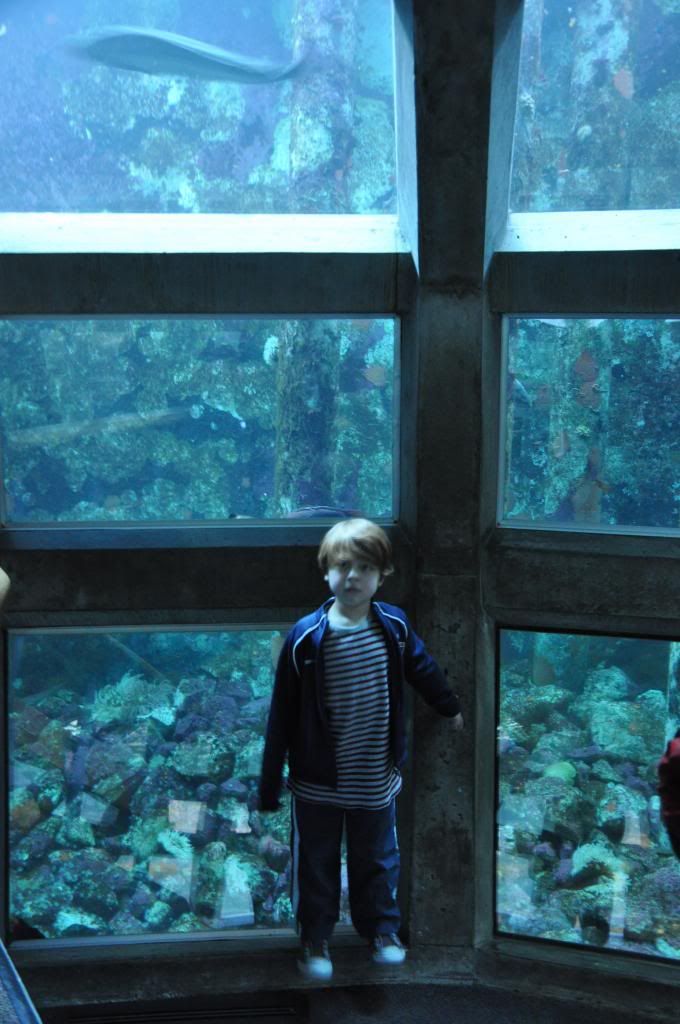 I like to site in the dome room and just relax and take it all in. I find it so calming and I usually reach this part of the aquarium an hour into our visit.
When visiting Seattle this is worth the visit especially if you are already near by at Olympic Sculpture Park, Pike Place Market or even the Great Wheel.
If you're home with a little one during the week the Aquarium also hosts toddler time on Mondays & Tuesdays from 930am-noon. Did I neglect to mention this is free with admission? Well, it is. Toddler Time is held upstairs near the cafe and includes arts and crafts such as fish printing, painting, and coloring, dress up (like mermaids!), mini touch tanks, water play and imaginative play. There is staff present but it really is parent/child led play. It's a great way to spend the morning with your little one in a safe and fun environment.
I've found that there is normally lots of parking in the mornings, I usually head over just after opening between 930 and 10am. If you're a member the Republic Parking garage across the street validates and takes a $1 off per hour. Although I'm a member I normally just park at a meter, trust me there is absolutely no shortage of parking in the morning but I must warn you the meter parking is pricey in this area, they are 4-hour meters and its about $4/hour.
A normal visit for Crash and I normally includes about 1.5-2 hours at the aquarium, then a nice leisurely stroll along the waterfront. There are lots of great lounge chairs scattered along the pier and walkways so you can take in the view, and if you have kids with you they will surely love watching the Great Wheel and the ferries coming and going!
The Seattle Aquarium lowdown:
Address
1483 Alaskan Way, Pier 59
Seattle, WA 98101-2015
Phone
Hours
9:30am to 5pm daily
Last entry at 5pm,
exhibits close at 6pm
| | |
| --- | --- |
| Adult (ages 13 & over) | $19.95 |
| Youth (ages 4-12) | $13.95 |
| Child (ages 3 & under) | Free |