The Crew enjoying the day at Olympic Sculpture Park
We visited Seattle Art Museum's
Olympic Sculpture Park
on Sunday. It had been a couple years since we last been and at that time it didn't really register with the kids and I didn't have time to really look at everything since I was busy running after two small boys. Sunday was beautiful, sunny and breezy, definitely a day to be outdoors.
Olympic Sculpture Park is centrally located in Seattle between Belltown and the Waterfront. It's a free activity in the Seattle with sweeping view of the sound and a beautiful downtown backdrop. The Paccar Pavilion at the main entrance to the park houses a small gift shop, a few installations, a cafe and a nice sized kids play area with fatboys, and toys scattered all about. Lest I forget the building is beautiful, its a large glass and metal structure which is super modern and very much light filled. There are chairs and tables as well so order up a coffee and let your kids play we did and it was pretty great! Until today I didn't know there was a play space in the Pavilion but now that I do I'll definitely include the Park on my rotation of things to do outdoors I get culture and Crash gets some kid time.
Main Entrance to Paccar Pavilion
Little Indoor Play Space
Kids basking in the rare sun just outside the Paccar Pavillion
T and I definitely enjoying taking our kids out to see and experience new things weather it be art, culture, food, cities etc.... Having this free amenity in our city is wonderful and the space is so beautiful. When the kids got a look at this beautifully, terraced lawn they could hardly contain themselves. The left the building and begin sprinting down the stairs and were even so kind to allow me to get some pics of them, together, sitting still. What was especially great about Olympic Sculpture Park was there were no security or employee folks milling about telling you not to run, not to yell or to frown down at you because you were standing to close to the art. There are signs placed near each sculpture very gently saying something similar to "please don't hurt the art by touching or climbing." The warning were clear, the kids totally understood why they shouldn't touch or climb instead of just being told a point blank "no, don't touch!" Yes, Crash is still very little and had to be watched but she'll learn. Because everything is outdoors the kids are free to be, well, kids. They were able to get loud and excited, to run about like maniacs chasing each other and honestly it was pretty awesome to watch Crash run around and through the giant Calder sculpture.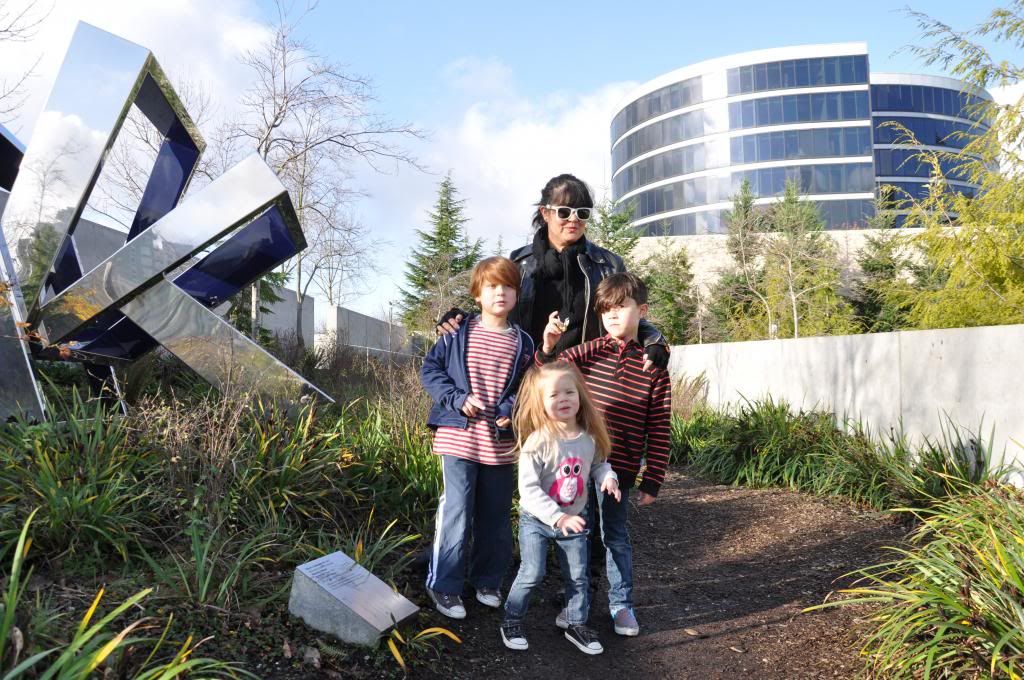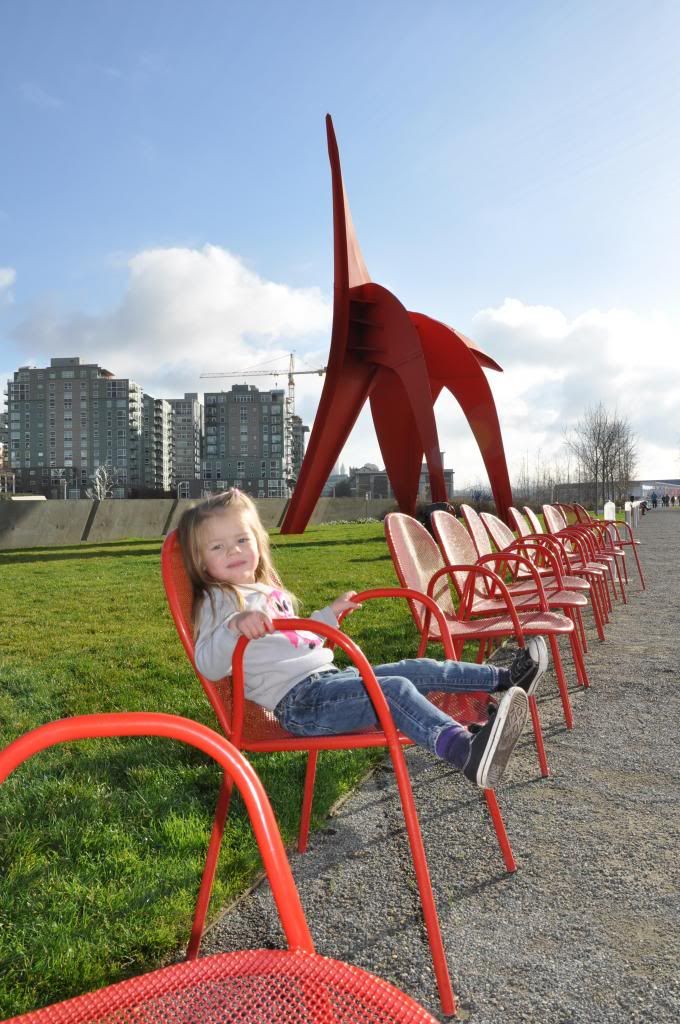 The kids really had a great afternoon at the park and I would recommend anyone with kids to check it out on a nice, dry day. Keep in mind that if you go when its wet out or we just had some rain you'll likely be dealing with mud if you or your little ones decide to stray off the gravel path. The sculptures are laid out beautifully and the size of them are fantastic especially for the kids. Mines were genuinely impressed. The views are fantastic and if you are lucky enough to be on the rainbow bridge when a train goes by your kid will be glued to that fence watching the train go by right under his feet. Olympic Sculpture park is in a great location and there is a spaghetti factory and numerous Belltown eateries in walking distance and at the lower end of the park there is a Uptown Espresso to grab a snack and a hot drink. However, if you want to walk just a little further the waterfront eateries, The Great Wheel and the Aquarium are also near by.
LOCATION:
Olympic Sculpture Park
2901 Western Avenue
Seattle, WA 98121
206.654.3100
TTY 206.441.4261
Hours
The Olympic Sculpture Park is open and free to the public 365 days a year!


Park Hours–Open Daily
Opens 30 minutes prior to sunrise
Closes 30 minutes after sunset


PACCAR Pavilion Hours
May 1–Labor Day
Tuesday–Sunday: 10 am–5 pm
Monday: closed


Day after Labor Day–April 30
Tuesday–Sunday: 10 am–4 pm
Monday: closed